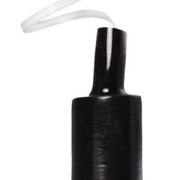 We are pleased to announce the introduction of BURNDY's Cold Seal Splice Kits. Cold seal splices, sometimes referred to as cold shrink, installs quickly with no tooling necessary. The CSB and CSJB series of products are made of specially formulated silicone rubber and offer excellent insulation and moisture proof sealing for in-line cable connector systems or elbow-to-cable jacket applications. Ease of installation…. Suitable for wide range of conductors…. Extreme Harsh Environments …. 1000V rating as a primary insulation cover… 600V for submersible cable connections…Operating temperature from -40C to 105C…
We are pleased to announce the introduction of VERSIPOLE™ Configurable Series Power Distribution Blocks that are used in panels and wireways for splicing cables and distributing power from primary run(s) to secondary/branch circuits. They are Listed to the UL Power Distribution Block Standard UL1953. Enhancements to the line includes UL Listing with flexible conductor, 1,000 volt rating, and DIN rail mounting with the Medium and Large sizes. Made in USA. Each configuration is also now available in an "Open" style and "Finger-Safe" style. Finger-Safe styles include a plastic top cover and plastic end plates that protect from accidental contact with potentially energized surfaces and meet requirements of IEC 60527 with an IP-20 rating. Although offered in standard 1, 2, or 3 pole configurations to support a variety of common run and tap combinations, the configurable series can also be designed to accommodate an infinite number of made-to-order combinations. Adders are available to expand the number of poles of an existing configuration, and optional translucent polycarbonate hinged covers are also available to provide increased user protection for the open styles.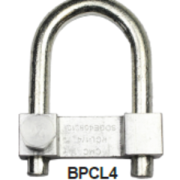 Disposable enclosure locks provide quick locking and serve as an alternative solution to using padlocks. See YouTube Channel for introductory video.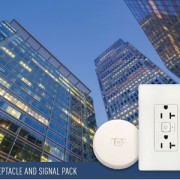 CONTROL THAT'S CONVENIENT, CONNECTED AND CODE-COMPLIANT. New requirements for reducing energy consumption in commercial buildings are here. Standards such as CA Title 24 – 2013 and ASHRAE 90.1 – 2010, 2013 now require that at least 50 percent of all receptacles in designated spaces of a building be "controllable"— automatically turning themselves off and on as needed. Legrand is making it easy for installers to stay code-compliant with a full line of Plug Load controllable solutions. Devices that are so easy to understand, install and use, they take a load off your mind and a load off your customers' electric bills.
Click here for sitelet for Plug Load Controllable Receptacle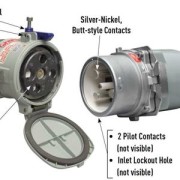 First and foremost it utilizes Meltric's spring-loaded, silver-nickel, butt-style contact technology which enable easy connection and disconnection while maintaining optimum contact pressure and resisting corrosion, cold welding, and other problems that occur with competitors pin and sleeve contacts. Other exclusive DR400 features include: • An easy closing mechanism that allows the user to connect the plug to the receptacle with minimal force. Rated watertightness is achieved as soon as the plug is connected to the receptacle. • Once the plug is engaged a screw-type locking pawl ensures safety by preventing accidental disconnection. An optional lock can also be used. • To disengage the plug deenergize the circuit, unscrew the locking pawl and press to eject the plug to the rest position. • Once the plug is removed a lockout hole makes lockout/tagout. • And a protective safety shutter on the receptacle protects workers from potential exposure to live parts and arc flash • Each DR400 also includes two Auxiliary contacts that can be used to enable additional monitoring, control, or communication. These features make the DR400 your best choice for high amperage applications such as, • power distribution • shore power, • generators connections.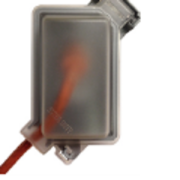 I'm pleased to announce the addition of Extra-Duty rated While-in-Use Covers (WIUC10FRED, WIUC20FRED) to the Pass & Seymour® weatherproof product offering. The 2014 NEC®, Section 406.9 (B) (1) now requires these covers to be listed and identified as "Extra Duty." The "Extra-Duty" covers are evaluated to more demanding test requirements than a standard cover. Previously, the requirement for "Extra-Duty" covers only applied to enclosures supported by grade, not one- and two-family dwellings. There was concern that covers were being damaged in residential and commercial installations. Key product features are: • Corner hinge and cord opening allows for vertical or horizontal installation. • Trigger latch opens easily with one finger, yet is lockable to prevent tampering. • Snap-in device plates require no tools to install and won't fall out, cutting installation time.
Download
While in Use Cover product data sheet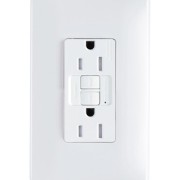 UL has issued major revisions to UL 943, the Standard for Safety for GFCI that take effect on June 29, 2015: To maintain UL certification all manufacturers must meet these revisions with GFCI's produced after June 28, 2015. Legrand has a new 1597/2097 Pass and Seymour GFCI receptacle that will meet these requirements. We started production of the new 1597/2097 GFCI in November, 2014 to insure a smooth transition.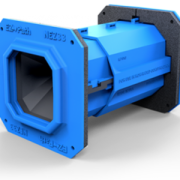 The new EZ-Path® Smoke & Acoustical Pathway can be used throughout the rest of the non-rated barriers (including smoke partitions, a non-rated smoke resistant construction).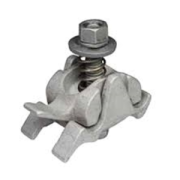 BURNDY FASTAP™ with Lineman Assist™ utilizes a spring system; that helps secure the tap conductor while installing on Primary, Secondary and Service Applications; acting as a third hand to assist in installation. The duckbill handle enables easy holding of the connector while the conductor side entry facilitates installation and helps keep inhibitor in the connector